Winnie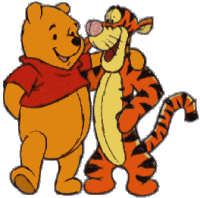 Pooh!
the
Isn't he the cutest, friendliest, most loveable bear you have ever seen? Down below you can check out pics and silly quotes made by Pooh and the gang! Also PLEASE take a FEW minutes to sign my guestbook below. Your opinion matters to me. It also makes updating this webpage easier.

Pooh Pics
Pooh Phraseology
"Oh Bother!"
-The House at Pooh Corner
"Bon-hommy," went on Eeyore gloomily. "French word meaning bonhommy," he explained. "I'm not complaining, but There It Is."
-Winnie the Pooh
"I don't hold with all this washing," grumbled Eeyore. "This modern behind-the-ears nonsense."
-Winnie the Pooh
"And how are you?" said Winnie the Pooh. Eeyore shook his head from side to side. "Not very how," he said. "I don't seem to have felt how for a long time."
-Winnie the Pooh
"If Eyore stood at the bottom of the tree, and if Pooh stood on Eeyore's back, and if I stood on Pooh's shoulders..."
"And if Eyore's back snapped suddenly, then we could all laugh. Ha ha! Amusing in a quiet way," said Eeyore, "but not very helpful."
-The House at Pooh Corner
"T-T-F-N
Ta-Ta For Now!"
Please check back fequently because I will be adding much more to this site!
Not so fast! PLEASE check out my homepage!

Just one more minute!
If you have on questions or comments please feel free to e-mail me!

My guest book!
View It! | Sign It!
Counter by Rapid Axcess